Introduction:
One of the first steps after making the big decision to start your own business is determining your business goals. How do you create goals that you know will be successful? By making sure your goals align with your core values.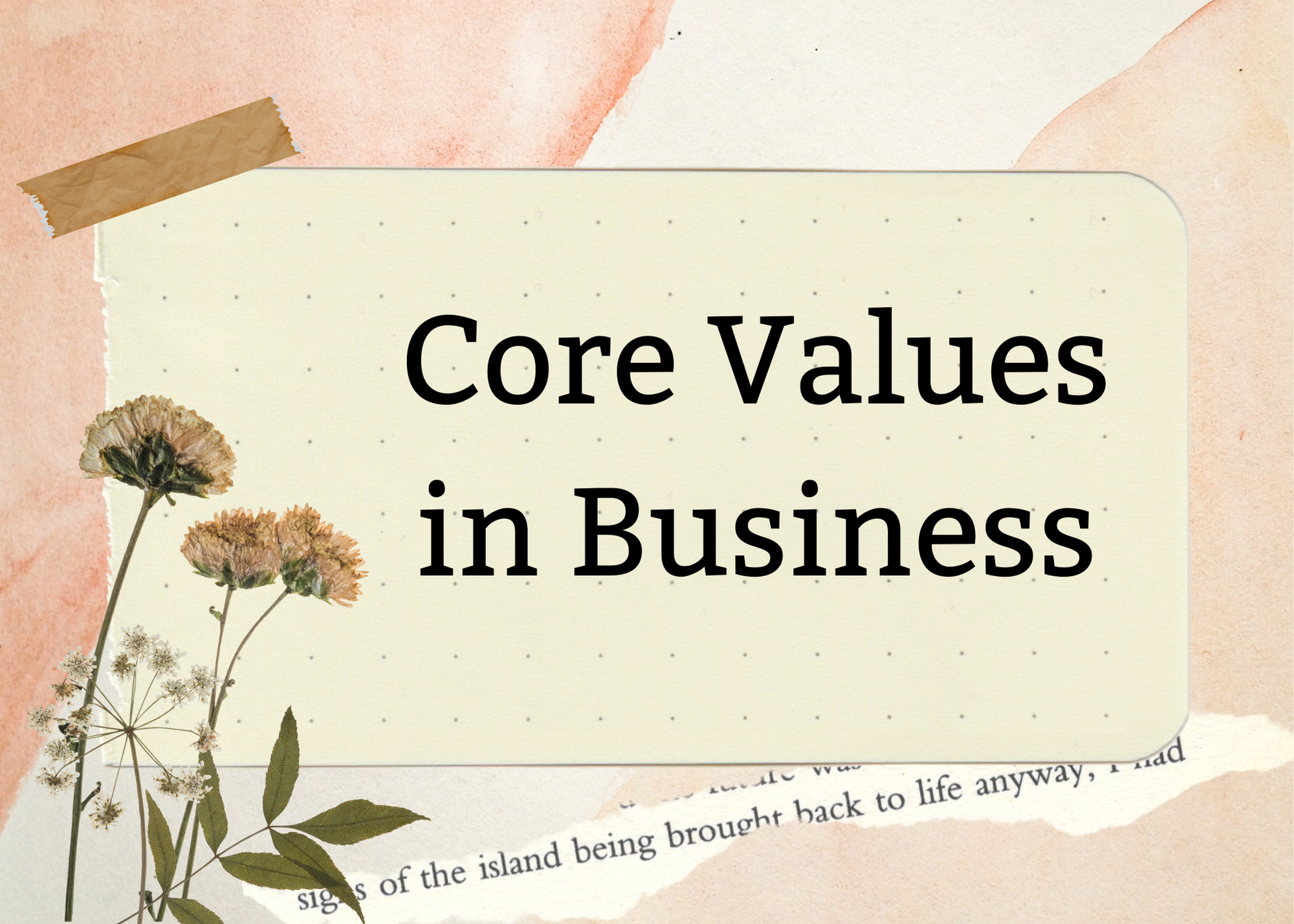 What is a value and why are they important?
A core value is what we perceive as being the MOST IMPORTANT to us in our lives. They are highly desirable qualities, standards or principles. They drive and influence our decisions, actions, and reactions and they govern how we believe people (including ourselves) should behave. Each person has their own individual set of values. Because each person has their own values, every business has different values, making each one unique.
Your values are important because you are more likely to achieve a goal if it is in alignment with your values. This is why it is important to identify and understand your own personal values when determining business goals. You are much more likely to succeed and feel satisfied by your job when your goals are being driven by your values.
For example, if one of your core values is family, but you set a goal to build a business and work 60 hours a week, you will have a sense of things feeling "wrong" because this goal is not in alignment with your core values.
How do you find your core values?
The first step in identifying your core values is to understand the difference between means and ends values vs. core values.
Take money for example. Of course money is nice to have, but what is your WHY behind wanting to have money? What does having money mean to you? Likely, having money means something deeper - security, respect, freedom, or success - these are CORE VALUES. Find the emotion behind your reason.
So, how do you find your core values? Start off with a brainstorming session list every value that is important to you. Here is a list of examples- this is not all-inclusive, so follow your heart when you are starting your list.
Accountability

Achievement

Balance

Belonging

Calmness

Challenge

Community

Expertise

Faith

Freedom

Fun

Positivity

Professionalism

Security

Teamwork

Vitality

Grace
Once you have a list of all your core values, sit back and reflect. Read through your list and start to focus on the values that really stand out to you, what are values that you are unwilling to compromise. The goal is to narrow it down to 10 core values you can base your business on. If you are having difficulty narrowing down your list (remember, just because you "remove" a value, doesn't mean it isn't important, this just means it is not one of your main values) look for values that correlate. For example, love and joy go hand-in-hand. Love creates joy, so you wouldn't need both on your top 10 list- if love is one of your top values, joy is sure to follow.
Once you have your top 10, write them down - maybe on sticky notes - because now you need to prioritize them. Move them around, reorder, and do some reflection. What feels right to you? This shouldn't be a rushed process: take your time, pray over it, talk with your loved ones, whatever you need to do until you look at your list and feel at peace.
How do you use your top 10 core values in your business and for goal making?
You should find yourself going back to your values with every business decision you make, big or small. When you are writing your mission statement, it should align with your goals. When you are hiring employees, you should be matching their strengths against your values. When you are working with your clients or customers, you should be treating them with the same values you treat yourself.
At Mint and Honey Bookkeeping, we follow these core values:
Faith- front and center at our company. We run our business how God intends and we believe He opens doors for us, provides opportunities and guidelines for our success.

Love- this value goes hand-in-hand with faith. Faith is showing love. We show love to our family, friends, neighbors, and clients.

Family-oriented- we run our business to not only allow us to be family-oriented, but to allow for our clients to also be family-oriented if this is something they value. We work to take away stress and worry to allow for more family presence with both our employees and clients.

Balance- because we value family-orientedness, we also value balance. We strive to give a healthy home/work balance to both our employees and clients.

Expertise- we ensure our employees are knowledgeable in their respected areas of responsibility. We provide expert financial advice and training to every client.

Professionalism- we maintain professionalism at all times. This is one of the ways we show our clients respect and earn their trust.

Trustworthy- by valuing expertise and professionalism, we show we are trustworthy. All client information is kept confidential and employees are held to the highest standard.

Making a difference- we want to make a difference, not only in our client's and employee's lives, but in the community where we serve. Any chance we get, we give back to our communities and we want to teach others the importance of giving back to others.

Stability- this is a BIG goal for our company. We want to help create a stable environment for everyone we work with. We look out for our clients- we work hard to make sure their businesses are thriving, which in turn creates a stable life.

Serenity- calm and less stress. We want you to find calm and peace within your business to allow achievement of your other values.
Our list of core values helps us to make important decisions every day. What does your list look like?
Whenever you are in doubt with your business, come back to your list and remember the WHY behind what you are doing.